The details of the early Fleming family of Stoneham given in the standard genealogical publications have always been scanty. The printed pedigrees took as their starting point the seventeenth-century Heralds' Visitation of Hampshire. This named only the father of Thomas Fleming, the Lord Chief Justice - as John Fleming of Newport. The excerpt below is from the Harleian Society transcript of a manuscript copy of the Visitation of 1622-34.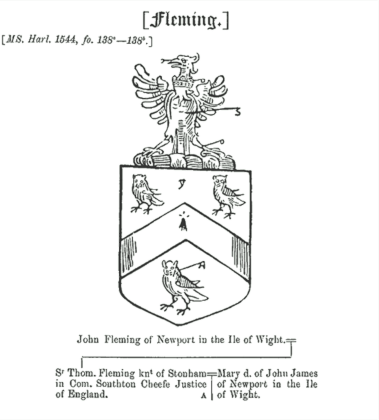 William Berry's
Pedigrees of Families in the County of Hants
(London, 1833) extended the pedigree back one generation, adding several pieces of information (see below). By citing the Heralds' Visitation in this way, Berry gave the misleading impression that the Visitation was the source for the additional information and that the John (d.1531) had featured in that document. One historian took this as 'proof of the excellence of his [John's] position'.
[1]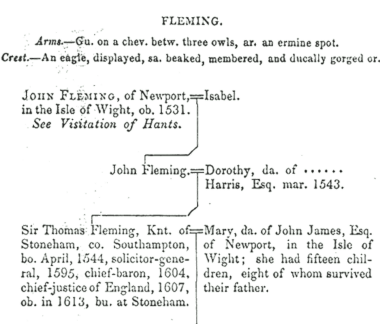 The 1835 edition of Burke's Landed Gentry used the details given in Berry and added nothing new (see below). This information was repeated in all subsequent editions.
[1]
W. H. Davenport Adams,
Nelsons' hand-book to the Isle of Wight
(London, 1862), p. 181.