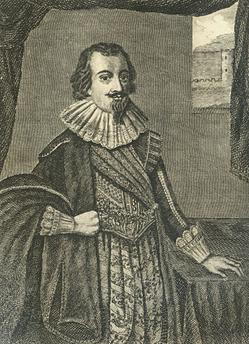 Sir John Oglander (1585-1655)
John Oglander of Nunwell did not approve of Thomas Fleming's purchase of Quarr Abbey on the Isle of Wight in 1609. He thought Thomas was a parvenu; Thomas's father - 'the most miserable of men' - had 'sowlde small wares in Nuport'. Oglander wrote:
'That which once the Abbots fat
And sluggish monks did feed,
The drunken Flemings now doth scrape,
With gain thereof, to raise their seed.
Oglander d
escribed the descent of Quarr Abbey
: 'Richard Milles bowght it on ye dissolution ... Richard dyed, and left it to his son George, who maryed an heyre in ye north and lived woorshippfully; was a Justice of Peace, and kept a brave howse. He dyed without issue, and left it to his brother's son, Sir Richard Milles, who sowlde it (for nothinge) to Sir Thomas Fleminge, Lord Chyfe Justice of ye King's Bench, whose father was a merchant in Nuport ... So nowe you may see ye greate Abby of Quarr, founded by Baldwin Ryvors, nowe come to ye posteritie of a merchant of Nuport. O tempora, O mores. Such is the inconsistency of Fortune, which, by the tide of her servant Time, pulleth down great things and setteth up poor things. Now it is turned from monks to drunken Flemings after it had continued on the Lord Abbot's hands 390 years, relieved many poor and done much good by preaching the Gospel in many parts.'
But Oglander also suggested a long-standing link between the Fleming family and the Abbey. The Abbey's founder, Baldwin de Redvers 'brought owt of ye Lowe Countrye one John le ffleminge, a good Free Mason, whom he imployed abowt ye mason woorke for ye bwyldinge of Quarr. Ever since as poore men ye name hath continued le ffleminge, and now one derived from him hath honour of his awncestor's bwyldings; but little did Ryvors imagine this when he brought him owt of Germanie.'